Is Webflow free to use? How many paid plans does it have? Which one is perfect for you? The Webflow subscription fees and plans are confusing, but not impossible to understand. Here, we are going to cover everything about Webflow pricing and its Site and Workspace versions, which help you pick a suitable plan for your personal or professional usage. 
Webflow Pricing and Plans – Overview
Webflow has two different Site plans – General and E-commerce. The categorization is one of the reasons why Webflow pricing seems to be puzzling. The General Site plans are suitable for simple sites, blogs, marketing websites, or any other business and content-driven site. However, the E-commerce plans are only for online retailers. Let's discuss all the plans in detail.
Webflow General Site plans
Webflow has five General plans.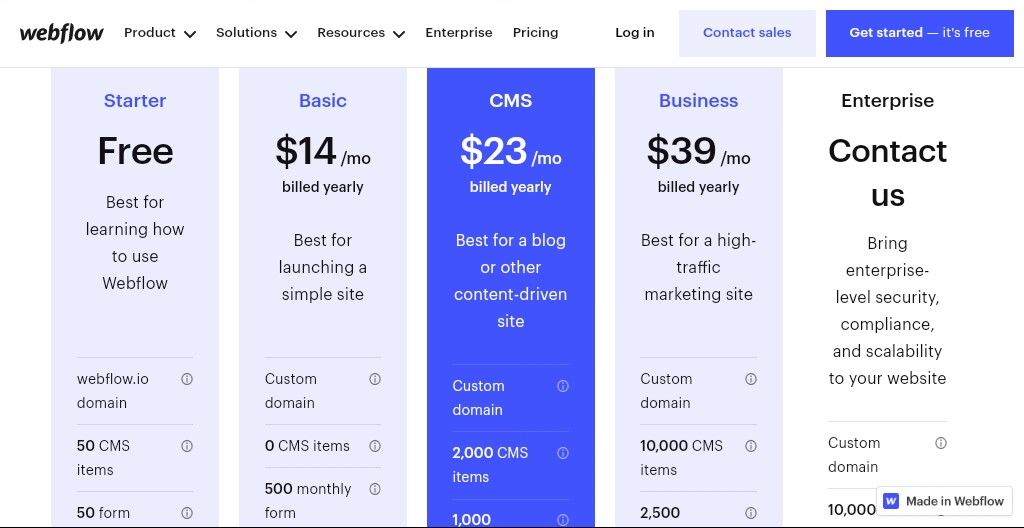 Starter: The Webflow  Starter is free to use and is perfect for users who want to learn the workings and functions of Webflow. It gives you a webflow.io domain to publish your website. In addition, this pack comes with 1 GB bandwidth, 50 form submissions, and 50 CMS items. 
Basic: Here comes the most inexpensive Webflow plan, the Basic. Its subscription fee is $18 per month in the annual plan and $14 per month in the monthly plan. This pack comes with 50 GB bandwidth, 500 monthly form submissions, and a custom domain. So, it's perfect if you want to operate a small-time website.
CMS: CMS is the most popular Webflow plan. It's available at $23 per month yearly and $29 per month if you purchase the monthly plan. The bandwidth of this plan is increased to 200 GB. Plus, it has a custom domain, 2000 CM items, and 1000 form submissions per month. Moreover, you can add three content editors. Hence, the CMS is perfect for blogs and any other content-driven site.
Business: Try Webflow Business if you own a high-traffic marketing site. It comes at $39 per month billed yearly and $49 if you pay per month. The bandwidth in this plan is 400 GB. Plus, it comes with a custom domain, 10000 CMS items, 2500 monthly form submissions, and allows you to bring on board up to 10 content editors.
Enterprise: The Enterprise plan is perfect for large organizations. It comes with over 10,000 CMS items, custom monthly form submissions, custom bandwidth, and more. This pack is secure, scalable, and perfect for enterprises. 
Which Webflow site plan is suitable for you?
Webflow Basic works well for you, if
You are a newcomer: A new website cannot get a significant amount of visitors in the first few months. Even if you put in a lot of effort, your website might not get more than 25K visitors in the first year. Therefore, the Basic plan is perfect if you do not want to spend a lot of money initially.
CMS is not needed: The Basic plan is also suitable for static websites. It does not let you add new posts or create any other CMS item.
The CMS plan is perfect, if
You are planning a blog: The Basic plan lacks CMS functions. Hence, you need a CMS plan for a blog or any other content-driver website. 
Your website is high in ranking: Webflow Basic has a bandwidth of only 50 GB. Hence, it might not be the right choice if your website gets more visitors. The CMS has a bandwidth of 200 GB, which can host a significant amount of visitors. 
The Business plan is suitable for
Fast-growing websites: If your website is one of the favorites for online users, try the Webflow Business as it allows up to 300000 visitors per month.
More CMS items: The Business plan lets you add up to 10, 000 CMS items. However, the CMS plan is limited to only 2000 items.
A high amount of form submissions: If your website is seeing a lot of form submissions, then the Business plan could be an excellent choice because it offers unlimited form submissions.
Go for the Enterprise plan if none of the other packs can fulfill your requirements. It's a custom pack comprising everything as per your needs.
Webflow E-commerce site plans
Webflow has three e-commerce site plans, Standard, Plus, and Advanced.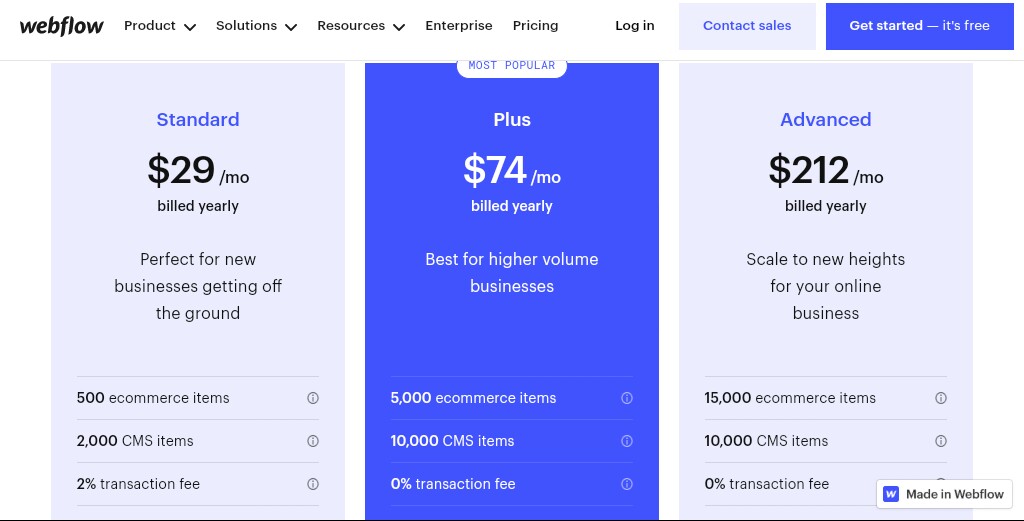 Standard: The E-commerce Standard plan is available at $29 per month billed yearly and $42 in the pay-per-month version. It comes with 500 e-commerce items and lets you store up to 2000 CMS items. In addition, you get the complete checkout process. What's more? There are customizable email templates for order updates.
The transaction on this plan is only 2 percent. It lets you charge via Apple Pay, PayPal, and Stripe. Moreover, Facebook, Instagram, and Google Shopping integrations are helpful in your marketing campaign.
Plus: Webflow Ecommerce Plus is available at $74 per month if billed yearly and $84 in the monthly plan. it comes with 5,000 e-commerce items and lets you store up to 10,000 CMS items. Apart from that, the Plus plan has everything available in the Webflow Standard. Here comes the good news. You don't have to pay any transaction fee for this package. 
Advanced: The Advanced plan has a monthly charge of $212 in the yearly billing and $235 if you are paying monthly. It has all the features of Webflow Plus. Moreover, there are multiple other attractions including 15000 e-commerce items and 10000 CMS items. Apart from that, you can add up to 15 staff accounts.
Which e-commerce site plan is perfect for you?
Webflow e-commerce packages are perfect if you want to sell products or services online. 
The Standard plan is perfect if you
You are starting an online business: Are you building your first online mart? Try Webflow Standard because it allows you to sell 500 E-commerce items and 2000 CMS items, which is sufficient for a new store.
Your online revenue is less than 50K. Webflow Starts allows a maximum business of $50, 000 per year. So, you need a higher pack if your online store generates more than $50K.
The Plus plan is worth it if
You want to sell a lot of items: Webflow Plus allows you to add 5,000 E-commerce items and 10,000 CMS items. So, try it if you have a significant series of materials for sale.
You don't want to pay the transaction fee: An additional 2 percent transaction fee is charged under the Webflow Standard pack. This cost is separate from the charges deducted by your payment gateway. However, there are no transaction fees in the Plus plan.
Webflow Advanced deserves your attention if
You are one of the leaders: Webflow Advanced is perfect if you want to be an E-commerce giant or you already are a big player in this section. It lets you store 15000 E-commerce items and 10000 CMS items.
Your revenue is more than 200K: The Plus plan does not allow you to generate a higher revenue than $200K. But the Advanced pack does not have any limits.
Webflow Workspace Plans – For In-House Teams
Webflow Workspace plans are different from the General and E-commerce site plans. The Worskapce package gives you a platform where you can invite your team members and clients to work on the websites together. All the sites built on Webflow rest inside a Workspace. It has four plans for in-house teams: Starter, Core, Growth, and Enterprise.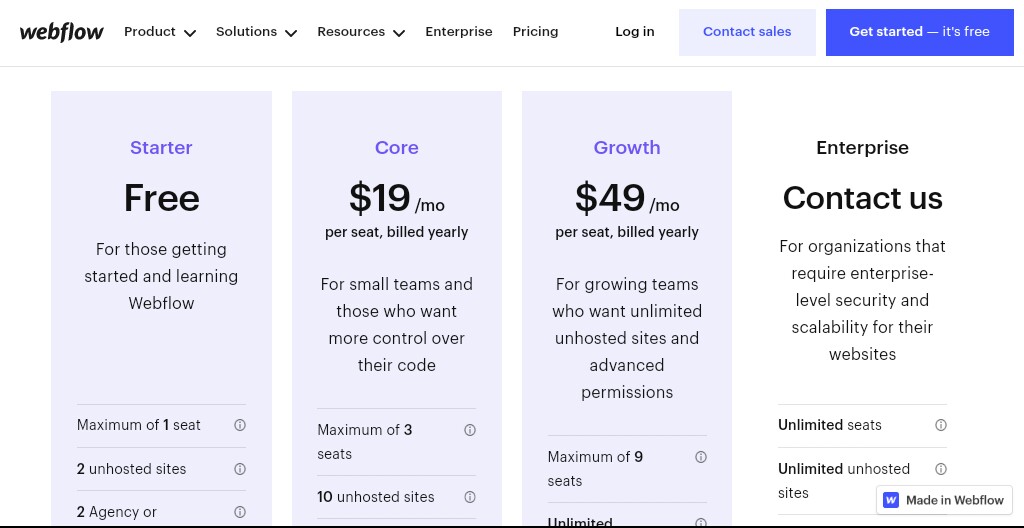 Starter: The Webflow Starter is free to use. However, it's only suitable for personal use. This plan is also perfect if you wish to learn Webflow. You can design non-hosted sites and also invite a couple of freelance guests or agencies to work on your projects.
The non-hosted sites are not available to the public. Once they are ready, you can upgrade to a premium Workspace plan to make them live. Once the sites are hosted, they are not counted under non-hosted websites. The support services are also available via email in this plan.
Core: The subscription fee of Webflow Core is $19 per month per seat in the yearly billing and $28 per month per seat if you pay per month. It also lets you invite up to two freelancers or agencies for site editing. Moreover, you can create up to 10 non-hosted sites. Apart from that, the billing permissions are only with the admin and owners.
Webflow Core facilitates code export excluding dynamic content. You can also add custom codes. Furthermore, It has email support for your help. Overall, this plan is perfect for up to three users. The Core version is also an incredible option for small teams.
Growth: Webflow Growth is specially created for growing businesses that need advanced permissions and unlimited non-hosted sites. It has all the features of Webflow Core. This supports up to nine seats and allows you to invite up to two freelancers and agencies. It's available at $49 for every seat per month in the yearly billing. The price goes to $60 per seat per month if you make monthly payments.
Enterprise: If you need scalability and industrial-grade security on your website, then try Webflow Enterprise. This pack comes with everything in Growth but supports unlimited users. In addition, it has advanced security and page branching. What's more? You get a dedicated customer success manager in Webflow Enterprise. Apart from that, you can pay via invoice here. 
Webflow Workspace for freelancers and agencies has three plans.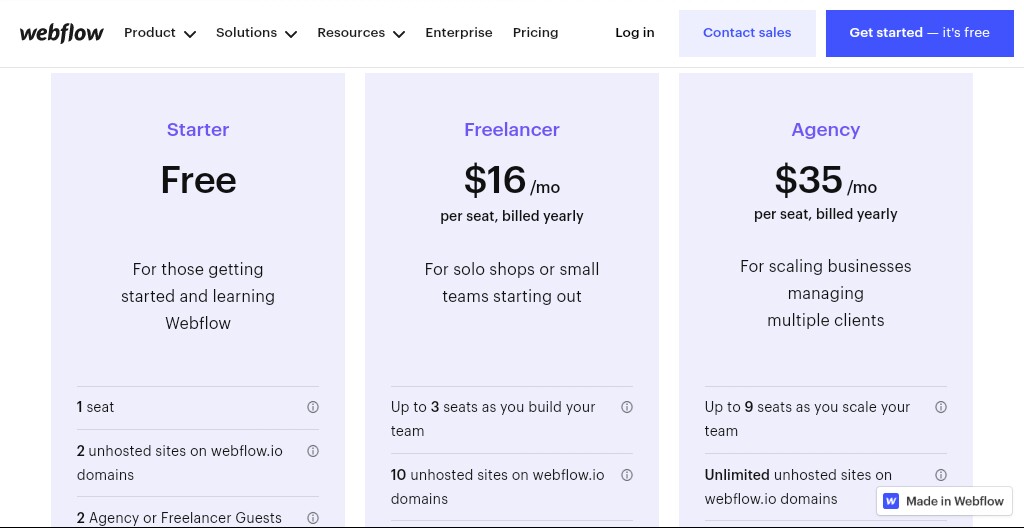 The Starter Free is an excellent choice if you want to learn more about Webflow and its functions. The Freelancer version is suitable if you have a small team. Try the Agency plan if you plan to manage multiple clients.
Do you need Webflow Workspace in your business?
The Workspace deserves your attention if you are a freelancer, website designer, website designing agency, or brand who wishes to design upcoming projects on Webflow. It lets you manage all the sites of your clients in one place. You can also get reviews and feedback for your work to improve accordingly. Moreover, you can charge the clients for your services on this platform.
Which Webflow Workspace plan is suitable for you?
The free Starter plan is perfect if you are a new user. Try it if you are yet to design a website on Webflow. This version gives you access to features, that help you to manage a small-time website designing business. It lets you design two non-hosted sites. 
Webflow Core could be an incredible choice if
You have some clients: The Core plan allows you to create 10 non-hosted sites, so it's perfect for in-house small teams.
You need the codes: Webflow Core and the plans above let you export the HTML & CSS files. 
You want high-quality staging: Webflow core has better staging.
The Growth plan deserves your consideration if you have a growing team as it offers unlimited unhosted sites and advanced permissions. It's also suitable if
You handle more than 10 projects: Webflow Growth gives you unlimited non-hosted sites, which is perfect if you intend to develop in the future. Moreover, it also lets you remove the Webflow badge from all the sites.
You need advanced publishing permissions: The Growth lets you control which users can publish the products.
You require password protection: Webflow Growth comes with password protection. So, select this version if you want to keep your site password-protected. 
Reasons to Try Webflow
You cannot pick a website builder only because it's free or less expensive. The platform should meet or exceed your requirements. Therefore, you must know the features of Webflow before trying its Starter plan or purchasing one of the premium packs. There are multiple features why you can prefer Webflow over its competitors like Wix.
Coding level: The underlying code of Webflow has a clean structure as compared to other platforms like Wix. Therefore, the websites built on Webflow are faster. Moreover, they are easy to export.
Helpful in SEO: The creators of Webflow understand the importance of SEO. Therefore, it has multiple options to boost the SEO of your website.
Fast loading: The loading speed of your website is crucial for your SEO and the overall experience of the users. Hence, it ensures instant loading of the web pages.
Incredible responsiveness: Webflow lets you edit the different components of your website, which helps you to adjust it on a variety of screens. Hence, the site stays responsive on smartphones and tablets.
Integrations for better performance: A lot of website builders like WordPress depend upon external plugins to gain the desired appearance and functionality. However, these plugins can mess with the codes of your website and make it slow. But, Webflow has a different setup. All its toolbox is developed internally. Hence, you do not have to deal with slowdowns and any other bottlenecks.
Multiple plans: Webflow has five general site plans, three e-commerce packs, four workspace plans for in-house teams, and three for freelancers & agencies. So, you can try a package according to your work culture, budget, and other requirements.
Webflow Alternatives
Webflow is not the biggest name in the world of website design. If we talk about Webflow E-commerce site plans, there are several competitors and alternatives for you to try. 
WordPress – Free
WordPress is one of the most popular website builders across the globe. It powers around 42 percent of websites. You can download this application on your host for free and create your online presence. It can design a wide range of websites, including blogs, e-commerce, landing pages, business sites, membership sites, and more.
Pros
Gives you complete control of the websites
Has access to over 55000 plugins to customize the websites
Over 8000 free templates
User-friendly interface
No transaction fees
Cons
Plugins and themes need frequent updates
Shopify – Starts from $ 29 per month
Shopify might be expensive, but it offers an unmatched set of accounting, analytics, and inventory management. Hence, this platform is perfect for small to medium-sized businesses. Once you set up the online store, it runs without any interference.
Pros
High-class website-building experience
Wide range of apps for customizations and additional features
Diverse integrations
Stylish and responsive templates
Sophisticated abandoned cart facility
Perfect for dropshipping
Cons
Less number of built-in features
Lots of apps are expensive
High transaction charges if you do not use Shopify payments
Squarespace – Starts from $27 per month
Squarespace is also a high-class builder for online stores, especially if you don't want to spend much time learning. It has a wide range of features to make the website development smooth. As this platform is user-friendly, it's perfect for beginners. Moreover, there are multiple Commerce plans to suit your needs.
Pros
Email and social media marketing
Incredible analytics features
Inbuilt SEO for keywords
Help center and form your support
Cons
Lacks advanced customization features
Zyro – Starts from 150 INR per month
Zyro is a pocket-friendly website builder, which can create all types of websites as per your requirements. It lets you design a blog, business site, and even an e-commerce store without spending a lot of time or effort. This platform has a couple of affordable plans to offer, but there are no free or trial packs.
Pros
Reliable web hosting with up to 99.99 percent uptime
Multiple additional tools like logo creator, slogan, business name, and content generator
User-friendly, perfect for beginners
Affordable
Lightweight, fast, and responsive websites
Cons
No free trial
No features to schedule the posts
Wix – Starts from $27 per month
Wix is one of the best e-commerce store builders because of its attractive templates, functionalities, and sales features. Moreover, this platform is easy to navigate and the support options are also incredible. Its basic plan starts from $12 per month, which is affordable for individuals and small businesses.
Pros
The fast and easy onboarding process
Prompts to improve SEO
Advanced CRM-like functionalities
Affordable
No coding required
Robust security features
Wide range of images for your store
Cons
Cannot change the site design once you publish it
The server response is slow when compared to other providers
FAQs
Is Webflow worth your attention?
Webflow is an affordable and effective solution for individuals or businesses looking for an online presence. Its free plan lets you learn the features and designing functions. Once you are ready with a website, upgrade to a premium plan to publish it. The Basic Webflow plan is pocket-friendly. But, the price can go up if you have a big team.
Is Webflow free to use?
Webflow has a free plan for website designing. However, you cannot customize the domain in this pack. You have to upgrade once the website is ready to go live. But, there are no free plans under e-commerce packages.
Webflow CMS plan is free to use for students. If you have a valid email address provided by your college or school, you qualify for the free student plan. Your professor or course coordinator will give you a link to where you can apply for the free student plan. You can also apply for the student discount here.
Webflow workspace also has a Starter plan, which is free. It's suitable if you want to understand the culture and working of Workspace.  Try Webflow Workspace if you are a freelancer, website designer, agency, or business providing website designing solutions. 
How much does Webflow cost?
Webflow Basic Site plan is available at $14 per month if you choose the yearly billing period. It helps you to build a simple website, but not an online store. If you plan to build an e-mart, then go for Webflow Ecommerce packages, which start from $29 per month if you select the annual billing duration. 
Can I publish a website for free on Webflow?
Webflow has a Starter plan, which is free. It lets you design a website but on the internal domain of Webflow. You cannot customize the domain. To publish the website, you need a premium Webflow pack. The plan starts from $14 per month. 
Is Webflow good for beginners?
Webflow website builder has user-friendly features to make the designing process easy and fast. Its interface is easy to understand. Hence, anyone can use this website creator without any hassles.
Will webflow replace web developers?
A lot of website builders like Webflow exist in the market. They are popular because of the no-code attraction. Professionals and entrepreneurs can execute their ideas without any technical knowledge of website design. However, only 0.6 percent of users are enjoying the features of Webflow in the current scenario. In addition, it cannot replace the expertise and customization levels provided by web developers.
Still, applications like Webflow pose a threat to some web developers because this software helps users to develop basic websites and even an online store after spending some learning time. 
Conclusion – Is Webflow Free to Use?
Webflow has a free plan, which is perfect if you are a new website designer who wants to learn the functions of this platform. It lets you design a website on the internal domain using 50 CMS items. However, you can publish the website only after upgrading to a premium web flow plan. Apart from the free Starter plan, Webflow CMS is also free for students.
Think about what you want to achieve with Webflow, consider your budget restrictions, and then pick a plan. A clear definition of your aims and finance review is crucial before selecting a website builder or workplace. Check the Webflow pricing, plans, and features before you make the final decision. Feel free to ask any questions regarding the best AI website builder in the comment section.