Are you searching for one of the best AI website builders? 10Web is an option for you. But is it worth your attention? We are here to answer this question. We will talk about all the features, advantages, and disadvantages of this website creator, which will help you to make a smart decision.
Overview
Almost all businesses nowadays want to move online, but not all of them are equipped with the skill set to design a website. Technical knowledge is one of the prerequisites of web-designing. Therefore, a newcomer with little coding knowledge cannot develop a quality website. It's where AI-powered website builders come into the picture.
An AI website constructor like 10Web helps you design impressive websites. Such tools generally follow a no-code campaign, and hence, they are convenient to use. So, you can use an AI website maker even without much experience in designing.
How does 10Web work?
10Web is one of the best AI website builders because it's easy to use. It helps you to create a professional-grade website within three steps. No need to use any other application.
Insert the website URL you wish to recreate: Copy the URL of the web pages you want to redesign and paste them into the website builder. For instance, if you like the home page, about us, and contact of a website, then copy the web addresses of these pages and paste them into 10Web. It copies the structure of the website, including image blocks, texts, fonts, colour palettes, etc.
Add more pages to complete your website: Create the rest of the pages. All of them inherit the theme and style from the home page.
Customize: Once all the pages are ready, edit all their sections to get what you need.
10Web AI website builder: Plans and Pricing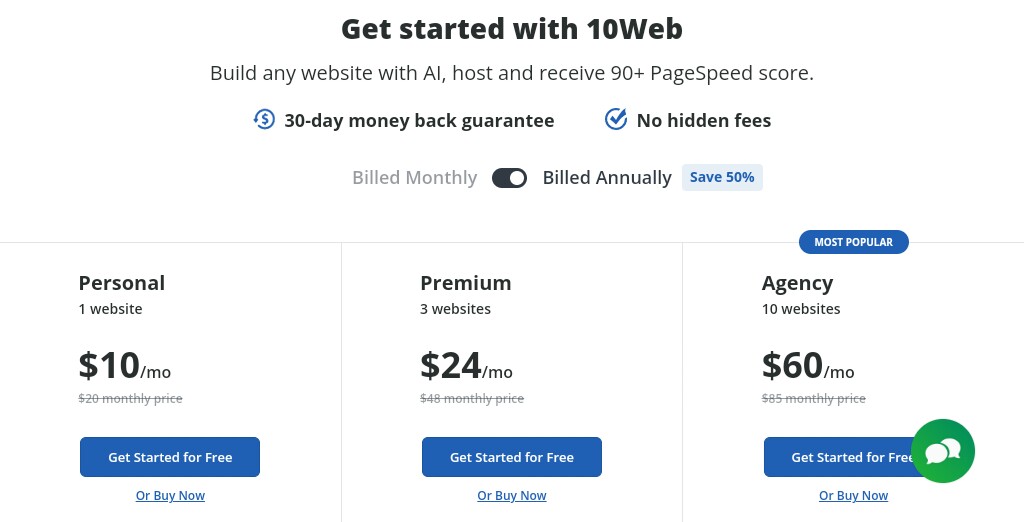 10Web has three different subscriptions, wherein you can save up to 50% in the annual billing. All the plans have a trial period of 7 days . Moreover, they come with a 30-money-back back guarantee.
10Web Personal is the cheapest. It starts at $10 per month in the annual billing. If you choose a monthly payment, the price goes to $20. The Personal version is only suitable if you own one website. 10Web Personal is a suitable option if your website has a maximum number of visitors of 25K. It can support more of them, but the additional services come at an extra charge of $2 for every 10K visitors. You get 99.99% uptime in this pack, and the storage is 10 GB.
The Business plan is better if you plan to create more than one website. It supports up to three sites and has a subscription fee of $24 per month in the annual billing and $48 in the monthly payment plan. The Business comes with several benefits, including 15GB storage, automated 1-click migration, automated real-time backups, malware removal program, free SSL certificate, and more. Furthermore, it supports up to 60K traffic.
If you own a website designing agency, try 10Web Agency because it helps you create and manage up to 10 websites. This is the most expensive plan of the 10Web AI builder. It supports up to 180K visitors and comes with 50 GB of storage. This package has everything in the Business plan. Plus, it comes with a white label and lets you host additional sites. On top of that, the Agency pack has VIP support wherein you can connect with 10Web engineers.
10Web AI Builder – Features
10Web AI builder comes with some unique features. Let's discuss them one by one.
Templates
Building a new website is time taking. But, it becomes easy if you have a pre-designed template. 10Web gives you a lot of prototypes that help you to develop impressive web pages without excess hard work.
The templates help you to start the website designing process instantly. Take a look at the available designs and select one of them as per your industry type. 10Web prototypes cover a lot of businesses, including e-commerce, charity, schools, restaurants, landing pages, electronics and more.
Automated 1-click migration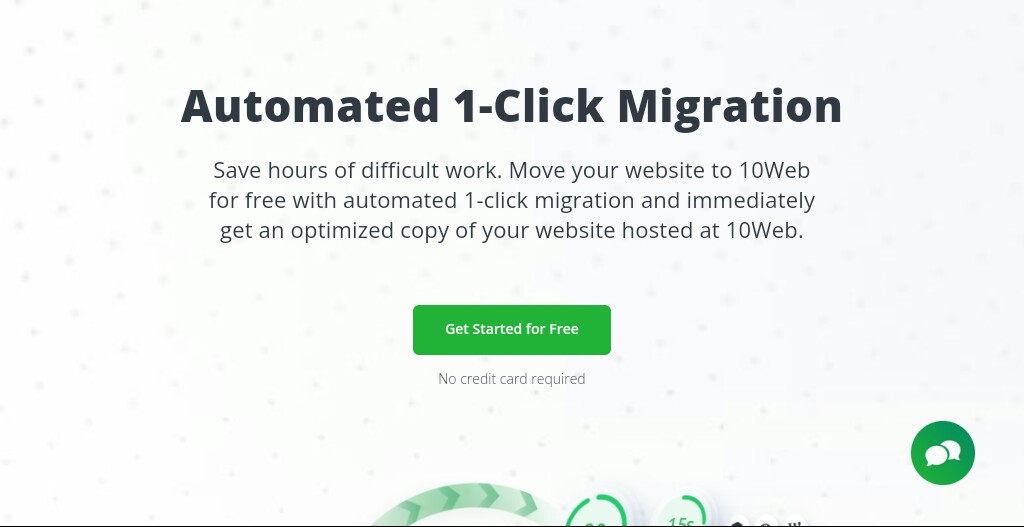 Here comes the most exciting features of 10Web AI builder, AI-based recreation and migration. For instance, you have a website on Wix that does not allow you to transfer it to a different host. The migration tool of 10Web lets you create a copy of your website, import and edit it as per your requirements.
Automated real-time backups
Backup of your website ensures you can get back all your files if anything goes wrong. 10Web creates ten restore points to ensure zero data loss. Moreover, the restore process takes a few clicks. Hence, you can focus on other important aspects of your business instead of worrying about your website.
10Web also allows you to schedule the backup. Therefore, you don't have to perform a manual backup every time you make changes to the website. Moreover, there is an option of differential backup, which stores only the changes made between the two backups. All these backups are stored in Amazon S3. So, speed and reliability is guaranteed.
PageSpeed booster
10Web Booster optimizes the speed of your website. It loads fast and hence lowers the bounce rate, boosts conversions and improves your ranking on the search engines. The 90+ page speed also enhances the experience of your readers.
Cloudflare Enterprise CDN
10Web is in partnership with Cloudflare to reduce latency and improve the performance of your website. Also, its web application firewall and free SSL certificate keep your website safe.
Drag & drop editor
Similar to Wix and Elementor, the 10Web gives you a drag & drop editor to design websites. Hence, you can design the required pages without any coding. Such an editing interface is also suitable if you are not from the website designing background.
Widgets
10Web has a wide range of widgets divided into multiple categories. So, you can browse these widgets and include them as per your needs. It has both free and premium options. Whether you need slides, image sprites, animated headlines, blockquote, media carousel, and price list, 10Web widgets got your back.
Also, there are building widgets to help you create impressive websites. Furthermore, 10Web has Woocommerce widgets like product images, product descriptions, related product showcases, breadcrumbs, add to cart, and upsells.
Interface
You can try the 10Web interface with the help of its 14-day trial plan. Once you sign up for this application, it gives you a dashboard to either create a new website from scratch or import an existing site. The interface is easy to follow and has excellent results. It creates a replica of the original website. However, you have to manually edit some parts to retain the functionality. So, you can prepare a website within one to two hours, especially if you are not a beginner.
Security
The websites are vulnerable to security risks, SQL injections, technical issues, and more. Hence, 10web scans your website to recognize any potential threats and saves it from any compromises. Its scanning tool informs you about the risks on your site and divides them into easy-to-understand categories. The security features of 10Web also perform the following functions:
Vulnerability scanning: Created to find out and pin down any vulnerability in your WordPress website plugins or core.
File change scanning: Provides a list of customized and missing files by matching them with the original WordPress database.
File restoration: If you find any unwanted changes in your website, 10Web lets you restore them to their original version.
Unlimited scans: You can scan a 10Web website as many times as you need, regardless of the plan you choose.
Scheduled scans: 10Web allows you to schedule regular security checks.
Search engine optimization
10Web is one of the best AI website builders because it has almost all the features to optimize a WordPress site. It helps you to detect and fix any errors related to SEO. The website designing system also improves your search rankings on search engines.
The SEO service is unavailable in the 10Web central manager. You can install its plugin by searching for SEO by 10Web in WordPress. After installing the app, connect your Google Search Console to track errors. This plugin includes the following functions:
Keyword rankings: Track the number of keywords on the web page and help you to optimize them as per the current trends.
Search analytics: Shows the full details of your search analytics. It lets you examine everything, including queries and clicks. You can also sort the results according to the geolocation.
Technical analysis: Gives you advice and tips to improve your website. Also, its scanner detects potential technical difficulties.
Search console page: Scan and show the SEO errors, including keywords and meta descriptions.
Redirects and canonicalization: Avoid 404 errors with the help of 10Web redirects. You can also fix the duplicate content by adding canonical URLs to your posts.
Support
Here comes the good news. 10Web has 24 by 7 live chat support. However, VIP support is only available for Agency users.
The AI web designer also has a dedicated slack channel where you can connect with its engineers to solve any issues as fast as possible. In addition, there is a help center that comprises a lot of useful guides.
Why is 10Web the Best AI Website Builder?
Incredible website building functions: 10Web offers endless customizations, which help you to create a website according to your preferences.
Security: Your site is secure on 10Web because it has uptime monitoring, attack detection, SSL, and more.
High-grade infrastructure: 10Web uses the latest software and cutting-edge hardware to host your site.
Google Cloud: As the hosting services of 10Web are powered by Google, you can expect high speed, stability, and security.
Landing page trials: The website designing application helps you to create and try multiple landing pages within a short period.
Freedom: If you don't want to continue on Wix or any other website-building tool, 10Web could be the perfect alternative. It helps you to migrate your website to WordPress without much hassle.
Easy web designing: 10Web has a wide range of free and paid templates. Therefore, you can get almost any design for your website. Moreover, these prototypes help you to get started on any project without extensive manual work.
User-friendly editor: Designing websites using 10web AI builder is easy because of its simple drag-and-drop interface. Hence, you don't have to use any codes. Therefore, this website-making tool is perfect for beginners.
Quick migration: You can easily migrate a website on a separate platform with the help of 10Web. Hence, you can create any website you like.
Widgets: You can use a variety of widgets to add more functionalities to your website. The widgets are useful for several projects, including online shops.
Monitoring: Your website is constantly under scanner. Hence, you don't have to worry about uptime, software-based security measures, and DDoS attacks.
Anti-malware scanning: 10Web's system checks for any infectious codes on your website and removes them.
Trial period: 10Web offers trial periods for all its subscriptions, which helps you understand its functions. So, you can check all the features before purchasing a plan. Therefore, there are no risks involved.
Advantages of 10Web
Helps you recreate any website within a few clicks
Easy customization with the help of drag & drop editor
Artificial intelligence for smooth designing
Created for everyone, beginners and advanced users
Pre-build templates
90 + page speed score
24 by 7 live chat for WordPress questions
Disadvantages of 10Web
Expensive when compared to regular website builders like Wix and Squarespace
Who should Try 10Web AI Builder?
Website designing agencies who wish to impress their clients with impressive designs
Freelancers working on WordPress website designs, development, and related projects
Digital marketing individuals because 10Web creates attractive landing pages
Entrepreneurs and startups looking for a pocket-friendly website designing platform.
Individuals who like a particular website and want to recreate it
Anyone who needs a new website without putting in a lot of hard work
How to Choose the Best AI Website Builder?
How technically sound are you? Answer this question before you start searching for an AI website builder. Do not overestimate your abilities. Otherwise, you might lose control.
Apart from your background and experience level, consider the following factors while trying an AI website-building system.
Customizations features
User-friendly interface
Reasonable pricing
High-quality support
Ease of usage is one of the crucial points even if you are an experienced user. Wasting your time on challenging coding is not a bright idea. Then comes the subscription fee, which is also important because there are multiple alternatives to try. Furthermore, we recommend you opt for a website builder with high-grade customer support. Such an application provides quick help and reduces the downtime of your business.
FAQs
What is 10Web?
10Web is an AI web designer, which has a wide range of effective tools to create and host websites. It comes with several useful features, including SEO optimization, a backup system, a free SSL certificate, automated one-click migration, an all-in-one dashboard, live chat, and premium security features. As this platform is powered by artificial intelligence, you can design a website without spending a lot of time. It automates the development process by using intelligence algorithms.
Is 10Web free?
You can get started for free at 10Web. However, its free version is only to check the functionalities and services. You cannot access the AI website builder, image optimizer, backup, staging environment, and management features. You can unlock everything for free only for the first 30 days by entering your credit card details. Moreover, you can also try the website building and hosting of 10Web for 7 days before you pick one of its premium plans. So, 10Web is not free to use. But you can experience its functions with the 30 and 7-day trial periods.
Does 10Web offer website hosting?
Yes, you can host websites on 10Web. Its hosting services offer 90 plus PageSpeed score and image optimization. Therefore, you can use 10Web as an all-in-one solution for all your website-related needs.
What is a 10Web PageSpeed booster?
The PageSpeed booter optimizes your website to generate a PageSpeed of more than 90. It also improves Core Web Vitals and hence boosts the performance of your website.
Alternatives to 10Web AI Builder
10Web offers unique website recreation functionalities, which might not be available with many of its competitors. But some of them are close.
Carrd: If you want to build fully responsive websites without paying anything, try Carrd. This platform comes with dozens of templates, and you can also start from scratch. However, it can design only one-page websites.
Softr: Covert your Airtable data into a website with the help of Softr. It helps you to design a professional-grade landing page within a few minutes. Plus, the interface is beginner-friendly. So, you can start designing without much learning.
Designmodo: Another time-saving website designing tool, Designmodo is an easy-to-use application. It also has a drag & drop bootstrap builder and a Startup application to create a free website.
Unicorn Platform: Here comes a zero-code landing page builder, which is perfect for startups and mobile applications. It's easy to master. Hence, even a beginner can enjoy the features of this platform without any challenges.
Wix: If you want to create a new website, Wix could be a perfect choice. It's expensive but has some high-quality website design features.
Final Verdict
10Web is one of the best AI website builders. This web-based application might be new in the market, but it will be exceptionally popular in the future. The quick and effective website recreation features of this platform let you design a website within a few clicks. Hence, you could give it a try if you wish to transfer your websites to WordPress.