ClickUp is one of the best task management tools that offer a lot of useful features and has a user-friendly interface. It is free forever for personal usage and the premium plans are also affordable. This cloud-based application ensures alignment of workflow around your goals. It comes with shared-task setting options, team collaboration, status alerts, project updates, and more. In addition, this software is highly customizable and provides visibility across all projects. These are the reasons why it's useful for a wide range of businesses and industries.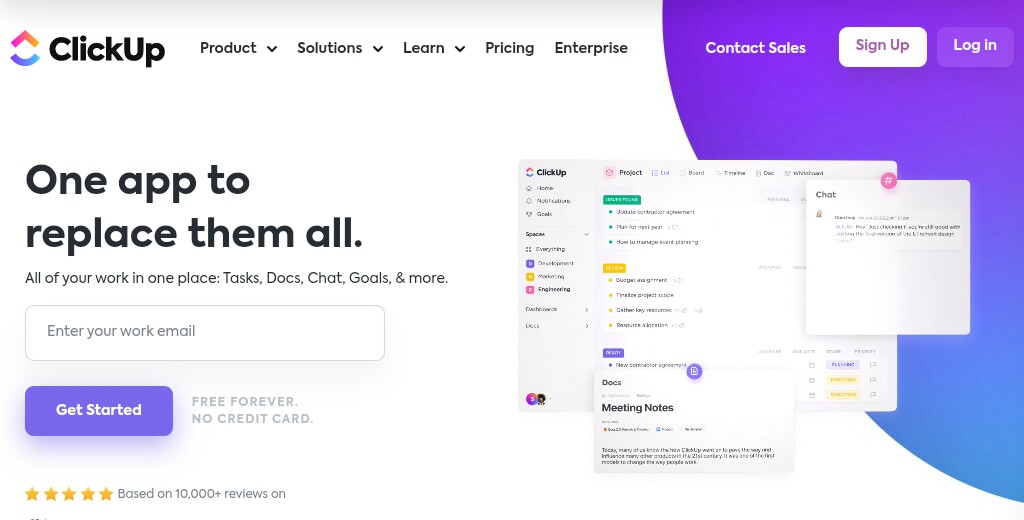 ClickUp – Quick Fact File
Ease of use (4/5)): ClickUp is easy to install and configure. It has a vertical bookmark at the top of your project, which helps you to access all the tools. However, you might have to spend time understanding the automation features of this application.
Features (4.5/5): ClickUp has a wide range of task management tools, including task dependencies, sub-task, custom project templates, and automation builders. Custom charts help you to display the projects without any hassle. Collaboration becomes easy with instant messaging.
Support function (4/5): You can contact the ClickUp support team via email, phone, and live chat. The Enterprise plan also has onboarding support.
Value for investment (4.5/5): The features of the ClickUp project and task management software is better than its competitors like Monday. Plus, this application is less expensive. Its Free Forever plan has almost everything you seek to manage projects in a small setup. The premium packs are also affordable.
ClickUp – Key Features
ClickUp has task management features, including Kanban boards and Gantt charts to let you know about the project's progress. Then, it has a whiteboard and live chat for team collaboration. On top of that, there is a custom automation builder to streamline your workflow.
Getting Started with ClickUp
ClickUp has a fast and straightforward setup. Hence, its configuration is easy. Managing tasks and projects is also simple. Open a project and you can see the task list that you can customize with different columns. Therefore, you can enter all the required details without clicking on multiple options or navigating to different menus. If you are a beginner or an experienced user who wants easy things in life, then ClickUp is the best free task management software for small businesses and personal usage.
Task management and workflow creation
ClickUp has a wide range of task management tools that are significantly higher than its competitors. For instance, there are features to make milestones and issue logs. Custom fields, time trackers, and task dependencies are other considerable options. What's more? ClickUp is equipped with a sub-task adder, which lets you sub-tasks to the parent tasks.
ClickUp has a high-class automation builder with 100 actions every month in the Forever Free plan and 1000 in Premium packs. There is pre-built and custom automation. However, the builder could be challenging to use for beginners.
Project data showcase
The Free Forever plan comes with a dashboard that can accommodate up to 100 users. Try the Business pack if you want to enjoy unlimited dashboards. All other plans above the Business package include unlimited dashboards.
Apart from that, the ClickUp task management application has widgets and display charts to display data from your projects as per your needs. You will never face any challenges in reporting. However, you cannot pull data from custom fields.
Communication and Collaboration
ClickUp free task management software for small businesses has live chat, calendar, collaborative docs, and task comment functions. It also has whiteboards, which is a new addition.
ClickUp: The good, the bad, and the worst
Let's know the advantages of ClickUp so that you can understand if it's the right software for your task management or if you need to search for alternatives.
Benefits of ClickUp
Uncompromised customization abilities: ClickUp offers incredible customization, which lets you adjust it according to your business, workflow, and personal preferences. This software is flexible and gives you the chance you pick any structure that works for you. For instance, its custom dashboard gives you access to more than 50 widgets. These widget variations help you build the dashboard for work overview and reporting. In addition, ClickUp has custom fields where you can add all the information. These are the reasons why it's one of the best free task management software for small businesses.
Convenient communication and collaboration: You cannot deliver a project without successful communication with your teammates. Most business owners struggle to maintain proper transmission of ideas and messages, especially if the staff is home-based. ClickUp has a wide range of tools to ensure streamlined communication and collaboration within your workforce.
Whether it's email exchange, instant messaging, or group chat, ClickUp has your back. It also has features to help you share and edit documents with your team. So, this application keeps you connected regardless of your work nature and culture. Not only physical offices, but it's also helpful if your staff is working remotely.
Affordable subscription fee: ClickUp task management offers a wide range of task and project management features. Still, its prices are competitive and reasonable. On top of that, there is a forever-free plan. You can explore its features and go for the premium plans if you feel positive about them.
The paid packs start from only $5 per user per month. So, you can pay for what you need. You can also anticipate and purchase the plans, which are perfect for solopreneurs, entrepreneurs, startups, and growing businesses. Furthermore, there are four more plans for small teams, mid-sized teams, multiple teams, and large teams.
Incredible reporting capacity
ClickUp quickly pulls up the records and reports as per your requirements. So, you can use it to review the performance of your team, including what projects they are working on, tasks completed, and deadlines missed by them. Hence, checking the progress of each project is also easy with ClickUp.
Multiple views for your comfort
ClickUp offers over 15 views for your projects and team structure. It comes with Gantt, Board, List, Calendar, and Box views. In addition, this application gives you an Activity view to check all the activities for a particular project type and group of people. You also have a Mind Map view and a Workload view.
Smart time tracking
Time tracking is crucial because it helps you to improve your management and concentrate on your work. ClickUp has multiple time tracking features and it's one of the reasons why you can try this software. In addition, it has options to set estimates and check reports, which gives you more control over your business. Such features also help you to check the working hours, useful for invoices.
Top-notch mobile application
Everyone loves cloud-based applications because they offer services on all devices, including smartphones. ClickUp understands the importance of access on the move. Hence, it gives you a task management application to check all the updates and perform important activities including project assignments.
ClickUp app has a user-friendly interface, which is perfect for beginners. Hence, you can streamline your tasks even if you have fewer ideas about management software.
Disadvantages of ClickUp
Advanced time tracking features are expensive: The advanced time tracking features are only available in the ClickUp Business version and packs above it. The Business version comes at $12 per month for every user. So, it could be expensive in the long run.
In other words, you need a subscription to track the billable hours. It's the duration of the time spent by your workforce on the projects.
Training period: Some of the users might need to spend a lot of time understanding the features of ClickUp task management software. In addition, its onboarding process is also long. You have to enter a lot of information before getting the access to ClickUp dashboard.
ClickUp Pros and Cons
Pros
Five different plans to suit the requirements of everyone
Incredible import options
Wide range of options to view and modify projects
Access to more than 1000 integrations
24 by 7 support
Cons
Business plans need a significant amount of training
No free trials for any premium plan
The banner message stays long after the import
ClickUp Pricing
Here comes the good news. ClickUp has multiple plans, which means you can pick one of them as per your budget and requirements. Let's talk about the free agile project management software pack first.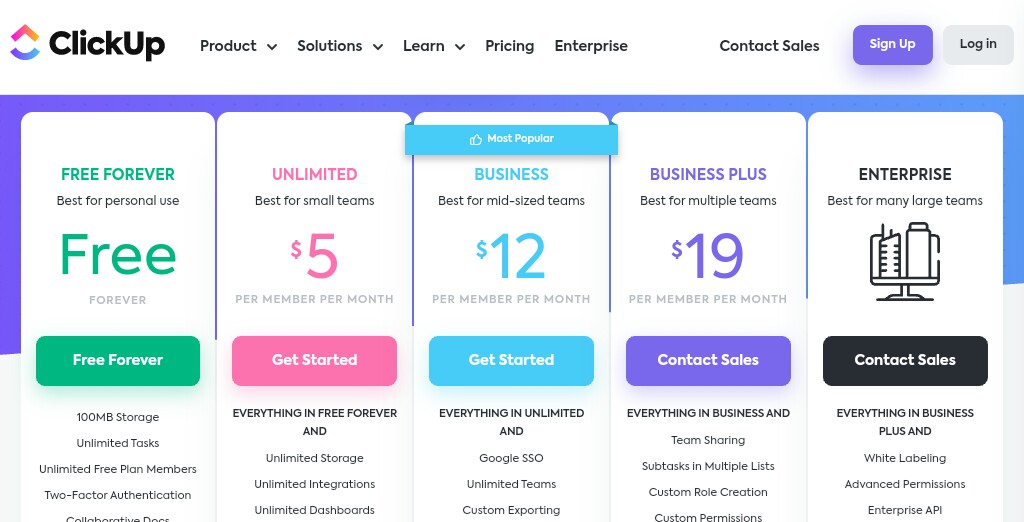 Free Forever
ClickUp Free Forever plan is perfect if you are starting with task management. It's also suitable for personal use. This pack does not have a price tag. Still, it has a wide range of features, including unlimited tasks, 24 by 7 support, collaborative docs, two-factor authentication, real-time chat, whiteboards, and more.
Unlimited
The second ClickUp version is affordable and hence, perfect for small teams. You can get this plan for only $5 per month per user. It has all the features of the Free Forever version and a lot more like unlimited storage, unlimited dashboards, unlimited integrations, unlimited Gantt charts, etc.
Business
ClickUp Business is the most popular plan because it gives you unlimited access to almost all the features. Two-factor authentication and Google sign-in make this version secure. Hence, it's perfect for mid-sized businesses.
The Business plan comprises Advanced Time Tracking features, which are helpful to calculate the billing hours of your team. Advanced Automation, Workload Management, Goal Folders, and Custom Exporting are some of its other helpful functions.
Business Plus
The Business Plus plan is perfect if you own multiple teams. It comes at a subscription fee of $19 per month per user. This pack has all the features of ClickUp Business and some more privileges including Priority Support, Team Sharing, Increased Automation & API, Custom Capacity in Workload, and more.
Enterprise
Go for the ClickUp Enterprise plan if you own a unit comprising a significant amount of professionals. You have to contact the ClickUp sales team to get its customized price. As you can guess, this pack has all the features of the Business Plan package. Plus, there are several added functions including While Labeling, Enterprise API, Teams Sharing for Spaces, Single Sign-On (SSO), and more. What else? You get access to managed services and a dedicated success manager. Hence, prompt support is guaranteed if you are registered in the ClickUp Enterprise plan.
ClickUp Tasks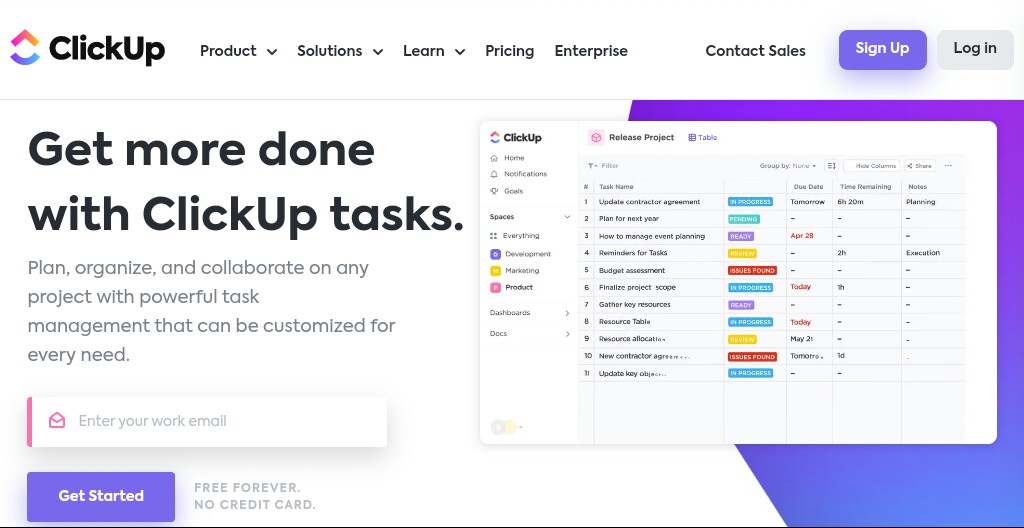 ClickUp task management lets you plan, organize and collaborate with your teams on any project. It boosts your productivity and helps you complete the tasks within the deadline. This software has more than 35 ClickApps to personalize your task management according to the requirements. Moreover, it saves your time with the help of task automation.
Task management lets you share the project with multiple members of your team. Moreover, you can assign comments as tasks and take advantage of sharable screen recordings. Apart from that, the option of recurring tasks helps you to attend the meetings without any miss. Apart from the conference calls, you can also use recurring tasks for daily reminders. The reminder set takes a few seconds and you don't have to repeat the process.
ClickUp Docs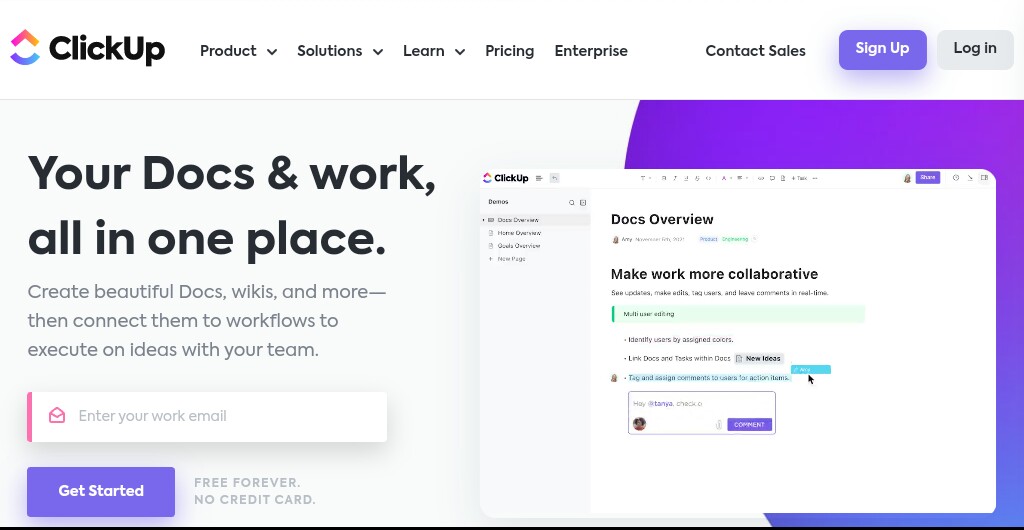 Creating stylish documents and wikis is easy with ClickUp docs. It lets you add bookmarks, tables, and multiple other options to format the documents as per your needs. In addition, you can edit the files along with your team members.
ClickUp docs link your documents and tasks together so that you can access them in one place. Moreover, it has widgets to assign tasks, change project statuses and update workflows within the editor. Add the widget to perform the required task.
Organization of your work and files is easy with ClickUp docs. You can easily access categorized documents. Furthermore, it facilitates secure file sharing via shareable links. You can also set permissions for file access.
ClickUp Goals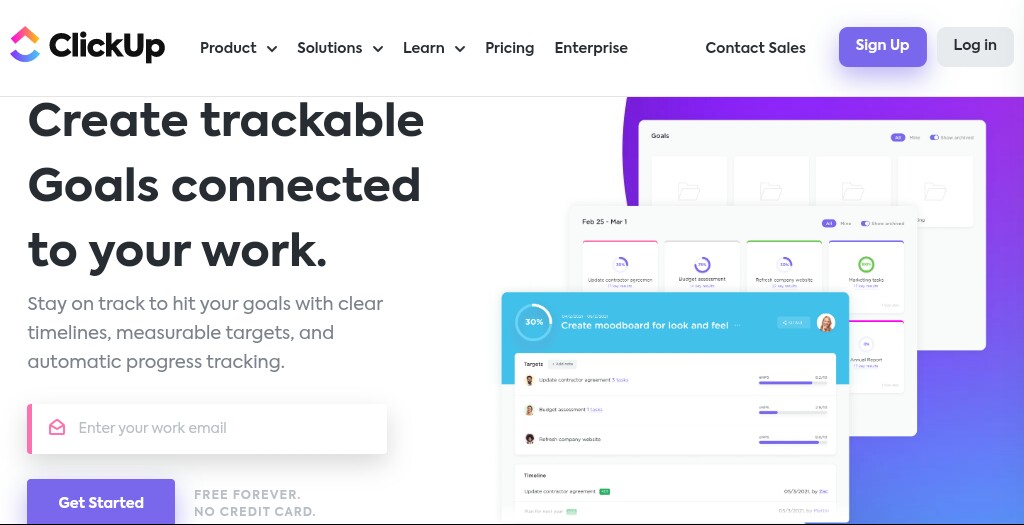 Create practical goals with ClickUp and accomplish the projects with a clear timeline, automated progress tracking, and measurable targets. You can track the progress of your projects with monetary, numerical, task Targets, and true/false. In addition, you can add tasks from different teams into a goal to create sprint Tasks. You can also create weekly sales Targets and more.
FAQs
Is ClickUp's free task management software right for a small business?
ClickUp project and task management module is an incredible software for small businesses. The features of the Forever Free pack are best in class. You get unlimited tasks, unlimited free plan members, collaborative docs, real-time chat, and more. This package also comes with 24 by 7 support.
However, its free agile project management software version is only suitable for personal usage. So, try it if you are an entrepreneur, freelancer, or start-up owner. Try ClickUp Unlimited or any other premium pack once you grow into a team.
How does ClickUp Forever Free plan compare with other providers?
ClickUp gives you a single dashboard to manage all your work, including professional goals, projects, tasks, and documents. Moreover, it has features to boost your productivity. Apart from that, this application is highly customizable. Hence, it's perfect for personal use.
However, Teamwork is better in terms of collaboration because it comes with a message board, which is unavailable in ClickUp. Similarly, Smartsheet excels over ClickUp if we talk about ease of use. If you are using Smartsheet, the transitions from excel files also become easy. But, ClickUp overshadows most of its competitors because of its incredible task management features. In addition, ClickUp is comparatively cheap.
Asana takes the front seat in the department of automation. Its automation builder is the best among all other providers. However, ClickUp stays ahead of Asana when we compare the number of features.
Is ClickUp's free task management software for small businesses worth your attention?
ClickUp Free Forever deserves your consideration because of its useful set of features for task management and workflows. Moreover, its premium plans are also affordable. So, you get the complete worth of your time and investment, if you go for the ClickUp premium packs.
The Free Forever version comes with multiple collaboration tools to ensure all your teammates are in sync with each other. Moreover, it has 24 by 7 support that's helpful if you need some help. Most of the free task management applications do not offer round the clock support.
Overall, ClickUp's free task management version is suitable for personal usage. Try its Business plans if you have a team. These packs come with advanced security and have all the features to manage your tasks and projects. This application is also perfect for a remote workforce.
Is there a desktop app for ClickUp free task management software for small businesses?
ClickUp is available to download for Windows, Mac, Mac M1, and Linux. Plus, it's also available for Android and iOS. You can download any of the versions on the ClickUp website.
Is ClickUp free task management software secure?
ClickUp uses TLS 1.2 encryption for all its web app communications, which is generally used by banks and financial establishments. When at rest, this application encrypts the data using AES-256 encryption. It's high-grade encryption used by VPN providers. Furthermore, there haven't been any data breaches in ClickUp since its inception after 2017.
Final Thoughts
ClickUp is one of the best free task management software for small businesses. It has all the functionalities and features to suit the requirements of a personal setup. If you develop into a team, then the upgrade fee of this application is also pocket-friendly.
ClickUp task management app deserves your attention because of its flexibility and versatility, which helps you to find the backlogs and bottlenecks. You can fix them to maintain on-time project completions. However, the learning curve of ClickUp task management could be steep for new users. So, spend some time on its interface to make things easy.