Webflow is an emerging website design tool which is gaining a lot of attention nowadays. But can it meet all your requirements? Why should you try Webflow instead of multiple other CMS (content management systems) available in the market? 
Here, we will discuss all the advantages and disadvantages of Webflow website design tools. Check them to understand whether this website builder is worth your attention or not.
What is Webflow?
Webflow is a cloud-based content management system, which lets you design impressive websites without coding. You can use it after paying a reasonable amount per month. This application offers a high level of customization. Moreover, it can design a wide range of websites including blogs, e-commerce stores, business websites, event sites, portfolios, corporate sites, landing pages, and more. Hence, it's perfect for professional website designers, small businesses, and entrepreneurs.
Key features of Webflow
Real-time visual builder
Let you access multiple themes while designing a website
Do not require additional plugins
Reduces the website development duration
Affordable plans available for everyone
Who should use Webflow?
Webflow is designed for business owners, entrepreneurs, web development agencies, professional website designers, freelancing website developers, and content creators. This application is easy to use and offers a wide range of customizations, which means it's suitable for anyone who wishes to design a website. You can learn website design from Webflow University, which means you can enjoy the features of Webflow even as a beginner.
Advantages of Webflow
Webflow is not the only website builder available to try. Know the Webflow pros and cons to understand whether it deserves your attention or whether you will try any other option.
Webflow Pros
1. No plugins required
Plugins seek regular updates and micro-management. Some of them slow down your website and might even crash it. Hence, Webflow decided to stay away from external apps. Therefore, you get a stable and fast-loading website.
2. Team collaborations
Webflow has General Site, and Workspace plans wherein you can invite other content editors to work on a project. Hence, you can deliver websites quickly and efficiently. For instance, the website designer continues to work while the graphics developer uploads the images and the content writer loads the content. Webflow CMS allows you to add up to three content editors, and the Business pack lets you add up to ten editors. Webflow Workspace packages are also all about teamwork.
3. High productivity
The collaboration between multiple team members reduces the overall project completion time. Moreover, the websites designed on Webflow are responsive. Hence, the elements automatically cascade into smartphone and tablet views without much hard work. Therefore, the productivity of your team increases automatically.
4. Secure hosting platform
Webflow is highly secure with its free SSL certificates. Plus, its security programs match industry standards such as ISO 27001 and the CIS Critical Security Controls. In addition, the AWS-powered hosting stack promises a seamless experience.
5. Beginner-friendly
Webflow gives you a drag-and-drop interface, which helps you to make complex websites easily. Hence, you can customize your website as per your requirements. As it's a no-code platform, the website designing process is effortless, even if you are a newcomer.
6. Immersive experience
Webflow has unique tools for web designers to make the website stylish and immersive. It has options to animate, auto-load elements, create hover states, and more. Such elements not only make your website unique but also offer a unique experience to your visitors.
7. Plans for everyone
The flexible pricing of Webflow gives it an upper hand over other website builders. This website design tool has multiple plans for personal and professional usage. Startups, entrepreneurs, freelancers, small to medium businesses, agencies, or enterprises can pick a site, e-commerce, or workspace plan as per their needs.
Webflow has two categories in each section of the site and workspace.
Site plans: Webflow Site packs are suitable if you plan to make your website without any expert assistance. So, you can try one of them for a blog, business site, marketing site, or -commerce store. The site plan has two divisions, General and E-commerce. The General has a free Starter plan and three other premium packs starting from $14 per month.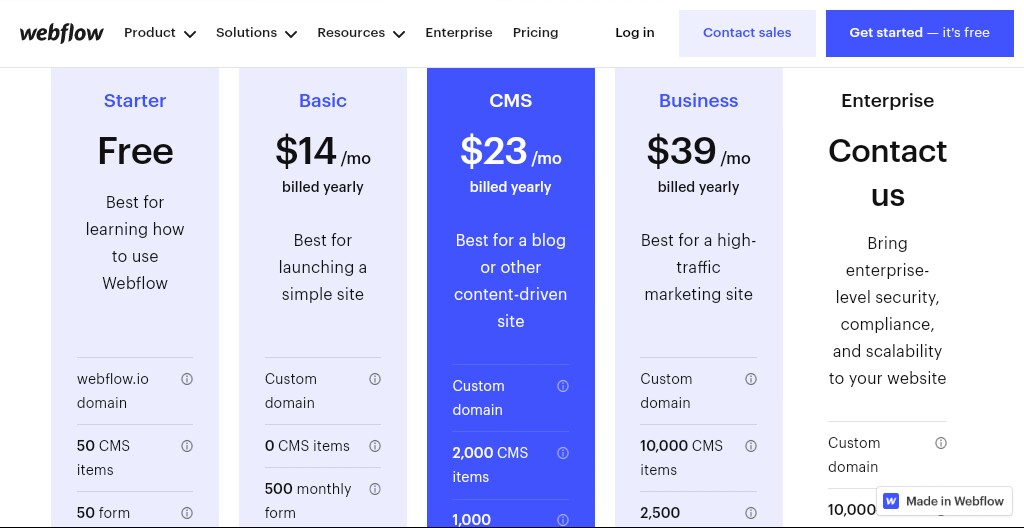 E-commerce has three paid plans starting from $29 per month.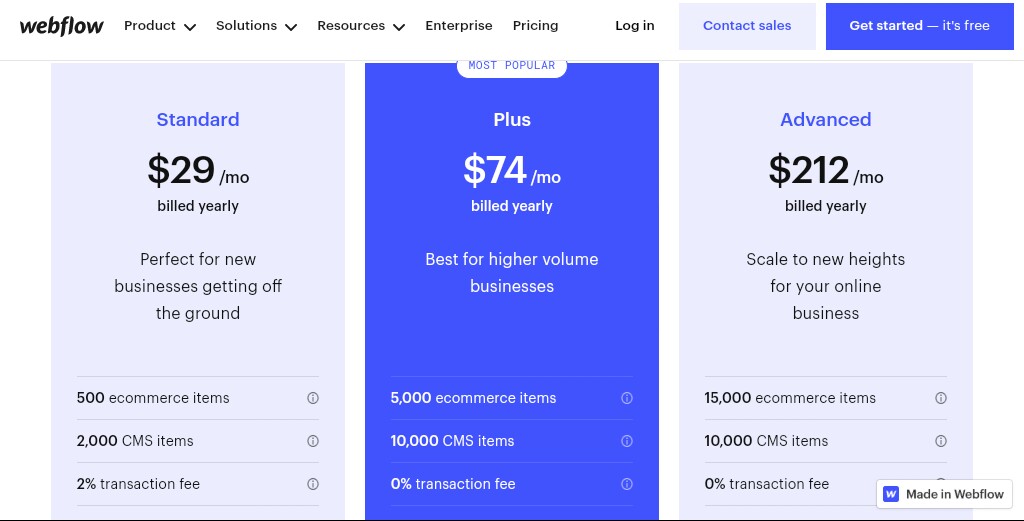 Workspace plans: If you are an agency or you have a team of website designers, the workspace plans could be an incredible choice. These packages help you to manage multiple websites at a reasonable monthly subscription fee. The workspace also has two divisions, For In-house teams and for freelancers & agencies. The in-house has a free Starter plan and three paid versions starting from $19 per month.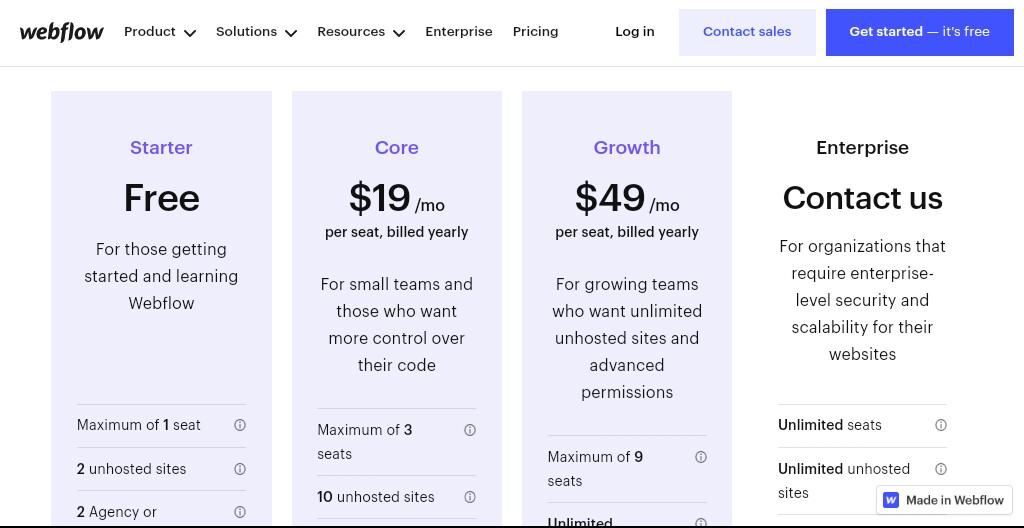 The freelancer & agencies have three packs, including a free one.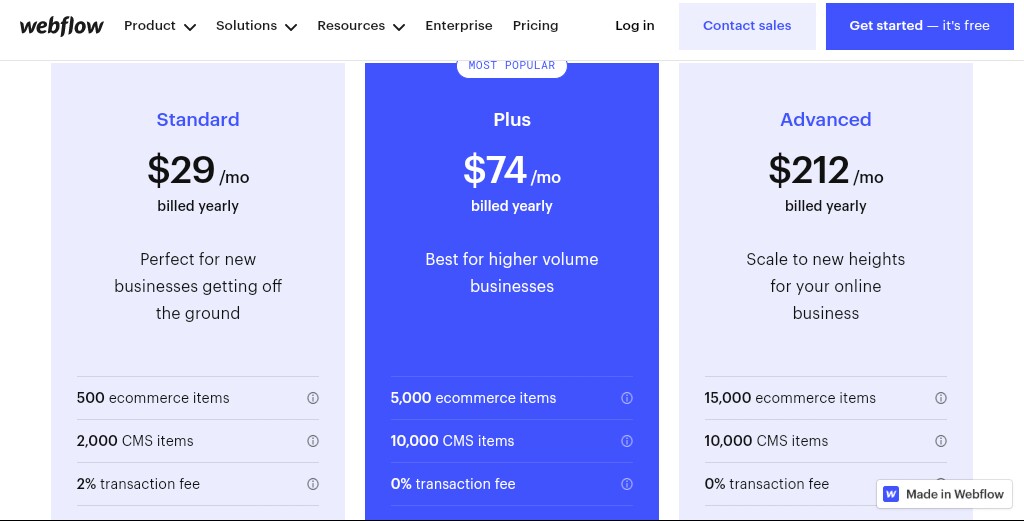 All Webflow plans are equipped with multiple tools for web designers to make the website-building process smooth.
8. Real-time prototyping
A website comprises multiple elements, and it's difficult to combine all of them while creating a mockup. Webflow changes the scenario by closing the gap between visual designing and outcome, as it offers real-time prototyping.
9. Templates
Webflow has more than 1500 templates, which you can customize as per your needs. These prototypes are categorized by industry, which means you can easily find one of them as per your industry type. So, whether you need an e-commerce store, business website, blog, or portfolio, Webflow has a design. All the templates are responsive, which means your website will look perfect on all devices.
10. Marketing tools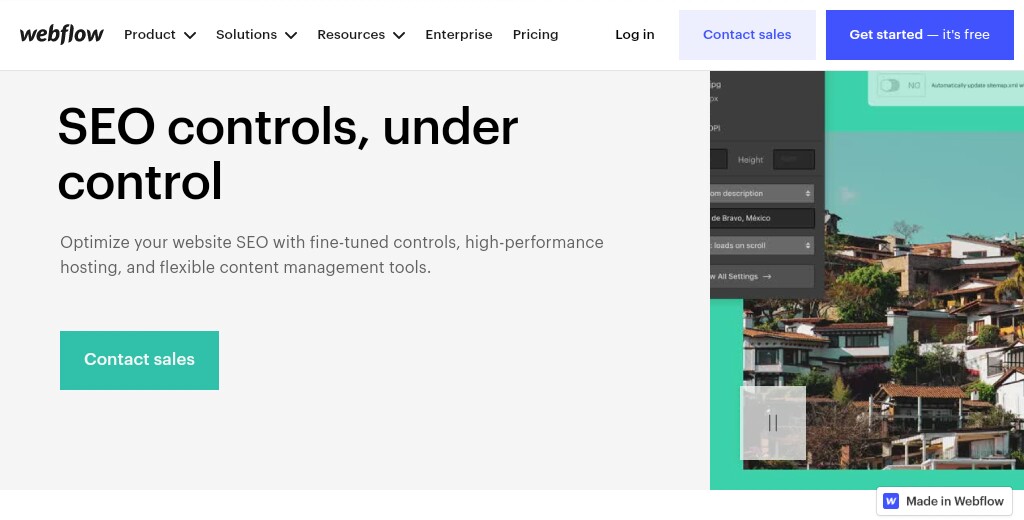 Here comes the good news. Webflow has multiple tools to boost your SEO efforts. It has 301 redirects, indexing rules, markup, SEO meta tags, and more.
Webflow lets you add and edit schema markup, which helps the search engine to understand your website and its content better. Moreover, it automatically defines meta titles and meta descriptions. In addition, there are sitemap controls.
The alt tag editor is also simple to use. Therefore, Webflow helps you to ensure your image metadata is indexed by Google. Such tools let you perform the basic steps of marketing before you start a campaign.
Webflow cons
1. Code customizations are not possible
You cannot customize the websites at the code level in Webflow. You can make some basic code changes but cannot change the functionality.
2. No smartphone version
Unlike most website builders, Webflow does not have an application for smartphones. Therefore, all the edits are only possible if you are in front of your computer. On the move, changes can be accomplished only with the help of a laptop.
3. Confusing pricing
Webflow has a wide range of plans, which could be overwhelming for new users. You might pick the wrong plan if you are not careful.
4. WordPress Vs Webflow
WordPress is the king of content management systems (CMS) because it powers 43% of sites across the globe. Hence, we will compare Webflow and WordPress to see which one of them is a better option. Let's consider all the factors one by one.
5. Themes
WordPress: There are thousands of free and paid themes in WordPress. However, most of them depend upon plugins to provide additional functionalities like form submissions and sliders. Moreover, these themes or templates come with restrictions.
You can change the images, fonts, and colour combinations of a WordPress theme, but customizing its layouts could be challenging without installing a new plugin. Such situations are irritating, especially when you need a particular layout.
Webflow: Similar to WordPress, Webflow also has a series of free and premium themes. But, none of them have any boundaries. You can install a template and change it without any barriers. Moreover, these themes are Webflow approved. Hence, they meet high standards and provide an incredible website once you use them.
6. Site speed
WordPress: WordPress sites use a lot of plugins, which might slow them down. Sluggish sites are not the favorites of search engines and online users. Therefore, your SEO score and user experience degrade automatically. A lot of website designers doubt their hosting provider in such scenarios. But the reasons are different.
Webflow: Webflow does not use a lot of plugins. Therefore, the websites built on these platforms are faster.
7. Site Security
WordPress: You might not believe it, but WordPress websites have multiple security issues because of the plugins. You can install a security addon to fix such issues. But, you are again using a plugin to remove the problems which should not arise at all.
Webflow: Thanks to constant threat monitoring, Webflow is a secure platform. Moreover, it has advanced publishing options to boost your website's security and speed. In addition, there are no plugins to compromise the safety of your web pages.
8. Search engine optimization
WordPress: You can optimize WordPress with the help of Yoast or RankMath. However, you have to understand the configuration and usage of these apps. Otherwise, the results might not be satisfactory.
Webflow: The SEO optimization in Webflow is simple if compared to WordPress. The former has inbuilt SEO tools for web designers. You can learn everything from Webflow University. Check the given video to understand how to change the page's Titles and Meta Descriptions.
Webflow FAQs
Is Webflow worth your attention?
The robust features of web flow help you to build responsive websites. Its pricing is flexible, and thanks to the collaboration features, the website designing process is also efficient. The available plans are designed for everyone, including freelancers, entrepreneurs, agencies, small & medium businesses, and enterprises. In addition, Webflow has a user-friendly drag-and-drop editor. So, the learning period is easy. Hence, Webflow is one of the best tools for web designers.
Is Webflow suitable for beginners?
Yes, Webflow is perfect for new users because of its straightforward drag-and-drop editor. It helps you to design responsive websites without any coding. Moreover, there is a free plan to understand the features of this platform.
Is Webflow free for students?
Webflow CMS plan is free for students. So, students can learn website design and start practising the techniques without any expense. However, you must qualify for the discount, that's only possible if you have an e-mail address provided by your university, college, or school. Apply for the student discount here.
Do I need to know coding to use Webflow?
It would be helpful if you knew how to code. However, you can use Webflow without any knowledge of coding. It gives you a drag-and-drop editor to design websites.
How easy is it to get started with Webflow?
Similar to any other Website builder, Webflow also has a learning curve. Its creators understand this fact, and hence, they created Webflow University. This university is a resource of courses and tutorials to help you understand the functions of this platform. In addition, there is a community forum for your help. So, getting started with Webflow is easy and fast.
Is there a Webflow free plan?
A free or trial plan of an application is a huge benefit because it helps you to understand all the functions of a tool. The Webflow Starter plan is free to use. It allows you to create a website on an internal domain of this platform. However, you need to upgrade to a premium plan if you want to customize the website domain name.
For instance, if you create a website with the name Artfiles. Then, it would show a badge of "Made with Webflow" at the bottom right. Plus, the domain name will be artfiles.webflow.io. Create a free account here.
How good is Webflow support?
Whenever you face problems while using Webflow, you have multiple places to find the solutions. You can check Webflow University, its online forum, Webflow YouTube channel, and its FAQs. If you cannot fix the errors, contact Webflow email support. They reply within 24 hours.
Final thoughts
Webflow is one of the best website design tools for freelancers, entrepreneurs, web designers, agencies, and businesses who want complete control over their designs. This builder lets you create what you need, which improves the overall experience of your visitors and improves conversions. Moreover, it has a free plan to create a sample website.
Select any website you like and try to redesign it with the help of the Webflow Starter free plan. Use Webflow University to learn the functions of this website-building application and upgrade to one of its premium plans once you get comfortable.