A free bulk email list cleaner makes your email marketing campaign successful by boosting the deliverability rate. A means all the addresses are correct, which ensures your messages reach the inbox of your subscriber and potential or existing customers. If you are looking for the best free email list cleaners, we have some top-class recommendations. Read on to know more.
Why is an Email List Cleaning Service Important?
You should review your email marketing list every six months to ensure you are not sending messages to unwanted addresses. An uncleaned email list has a negative impact on your sender's reputation. Do you know why? Because your reputation depends upon the engagement your messages receive from the recipients. If your messages are continuously finding the spam folder, your email deliverability and sender reputation are automatically reduced.
The best free bulk email verifier makes a positive impact on your marketing efforts. Such an application ensures your messages reach the users who are interested in your products and hence, increases the conversion rate.
In addition, an email verification service saves you money. A lot of email service providers charge you for every email address in your subscriber list. An email cleaning tool ensures you do not have to pay for inactive recipients.
What are Free Bulk Email List Cleaners Used for?
As you can guess, bulk email list cleaners eliminate invalid addresses from your mailing list. Hence, they enhance your deliverability rate. If your deliverability rate is low, your ISP might think of you as spam. Your ISP might block your email address, which can hamper your marketing efforts.
Even if you ditch the ISP, you will pay extra for email addresses that do not offer any benefit to your business. A lot of mail service providers charge as per the number of emails you are using for the marketing campaign. An email list cleaner free saves these additional charges.
In addition, a significant amount of invalid addresses makes negative impacts on your metrics. If your metrics are correct, you might think you are doing something wrong. You might never realize that the invalid emails are doing all the damage. Eventually, you waste your time and energy in the wrong places. Therefore, we recommend you try one of the best free bulk email list cleaners from our recommendations to save time and effort.
How to Pick the Best Bulk Email List Cleaners in 2023?
Do not get carried away after looking at the number of free email verifications. Make sure you check the following points before selecting the best free bulk email verifier.
Reliability: A bulk email list cleaner can efficiently remove all the invalid email addresses from your marketing list. So, check the accuracy of such a tool and also read its reviews before you try anything.
User-friendliness: Trying a complicated clean-up email list free could be challenging and time-consuming. We guess you have better work to do than learning about using a new application. So, try a user-friendly and intuitive option. We have suggested five top-notch cleaners. You can check all of them and try something of your choice.
Security: Do not try a bulk email list cleaner who is not serious about its security and privacy. Such an application might compromise your marketing efforts. Pick an email list cleaner that has high-class security features.
Additional features: A lot of free bulk email list cleaners come with several additional tools. For instance, Email List Validation comes with a couple of functions including Blacklist Monitoring and Inbox Placement. So, try a cleaner with additional features.
User reviews: Research the email list cleaner. Read the reviews given by professionals and experts. Compare the pros and cons to get the best option.
Keep the above-mentioned factors in mind while you look for the best free bulk email list cleaner in 2023.
5 Best Free Bulk Email List Cleaner in 2023
You can find a lot of email addresses checked online. But, checking the features of every option could be overwhelming. Therefore, we are suggesting some of the best free bulk email verifiers to save you time.
Email List Validation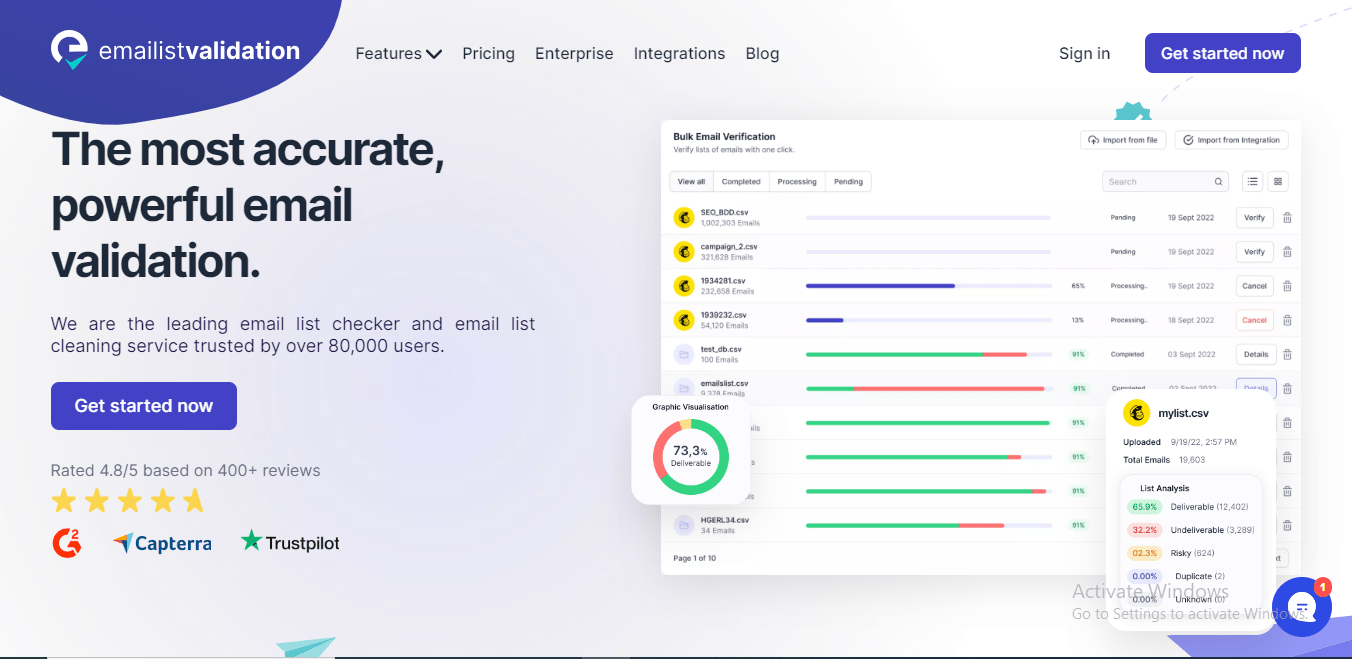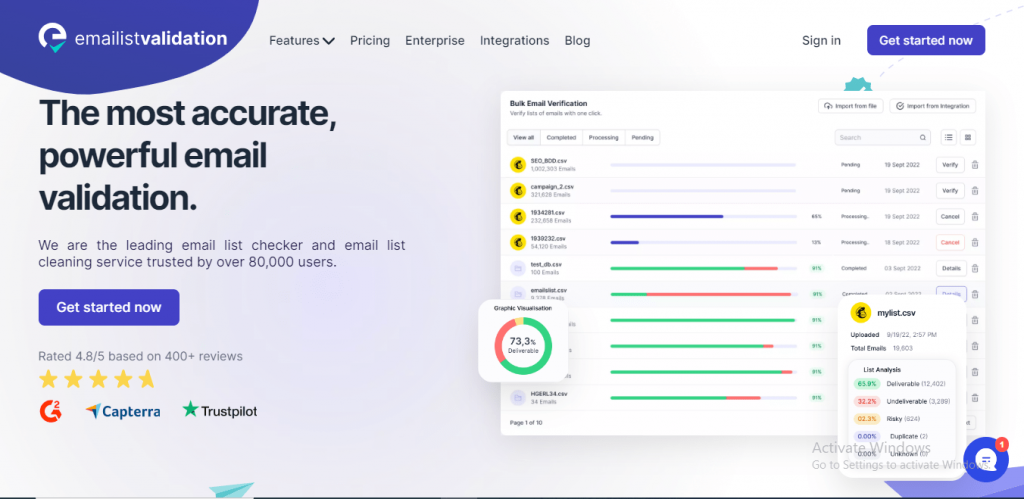 Email List Validation is the best free bulk email list cleaner. This tool has a simple interface, which means you can try it even as a beginner. Plus, this application is accurate.
Once verified by Email List Validation, you will never see bounce messages. So, you can use it for your website and also for your clients, if you are a digital marketer. Furthermore, this application integrates with a wide range of third-party applications. Therefore, you can check the email addresses in real time.
Over 80, 000 users trust Email List Validation and it has a rating of 4.8 out of 5 on Trustpilot, Capterra, and G2. Plus, this service is used by a lot of popular brands like L'oreal, Booking.com, Shopify, and Toyota. So, you can also try it without any second thoughts.
Key features
All-in-one solution for all your mailing problems
Cleans your email list to make your email marketing strategy successful
Real-time email list verification
Blacklist monitoring
Blocking of disposable/temporary emails
Free plan: No free version. You can start for free with 100 free monthly email verifications.
Pricing: Starts from $19 (2500 credits). You can get special deals by accessing Email List Validation using SubscriptionPro.
Pros
Has all the features you need for email marketing
Option to request the integration
Increases the deliverability rate
Two ways to clean up the email list free- Dashboard and API
99.99 percent uptime
Powerful servers for 3X speed
Cons
Abstract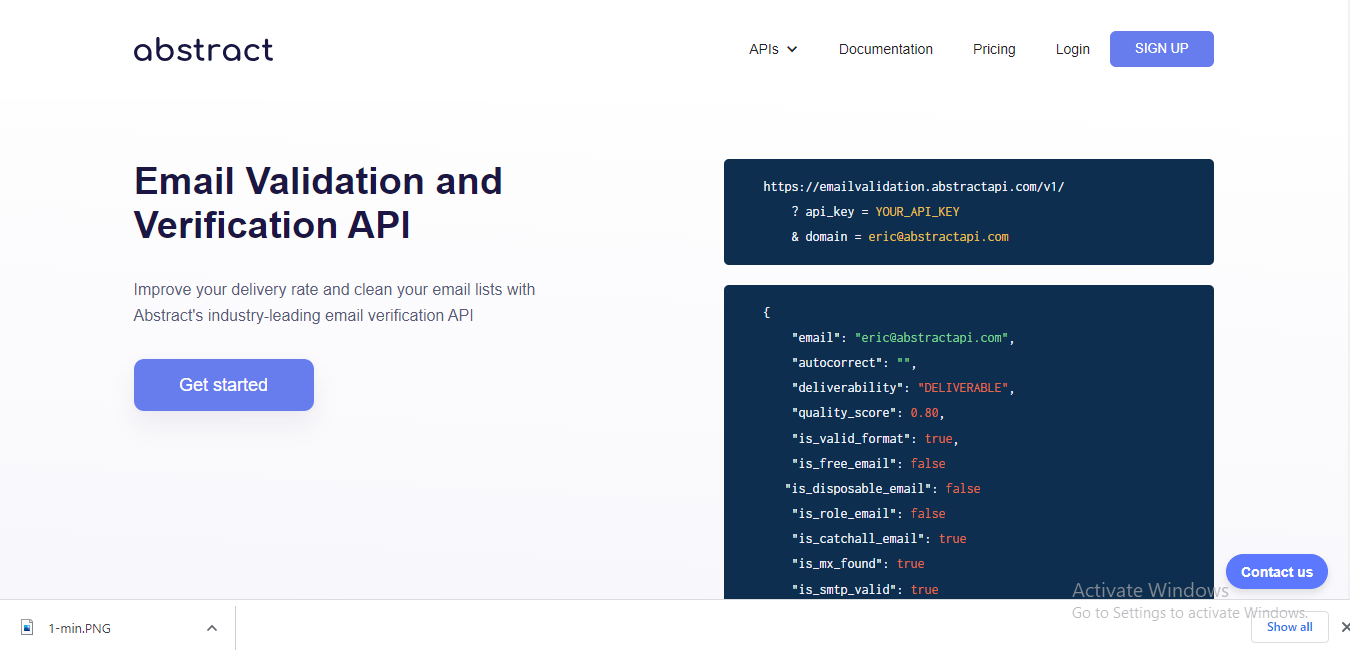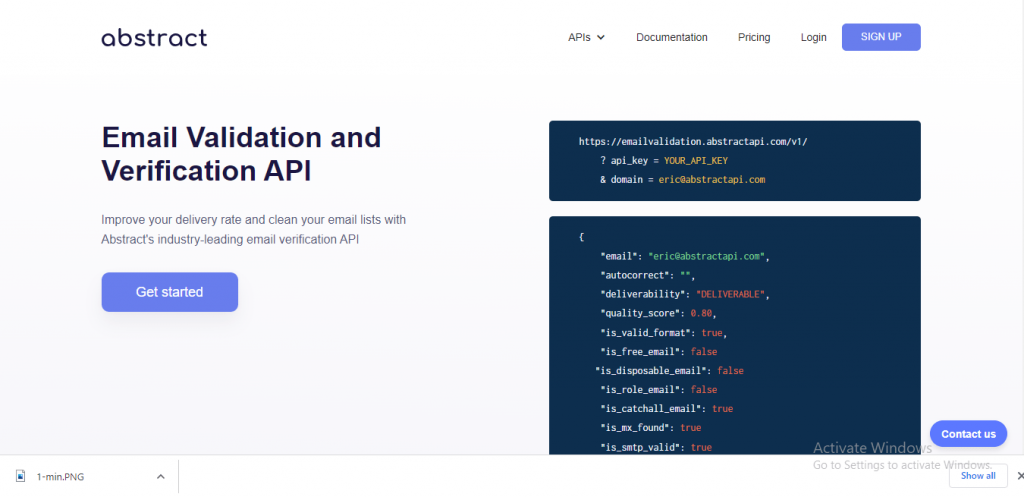 Abstract gives you an easy-to-integrate API, which validates email addresses when anyone signs up for your online form. Plus, it provides cleaning for your existing email marketing lists. Using this tool is extremely easy. Sign up on its website to create a free account and upload the CSV file to get a clean email list.
Uploading the CSV file is also simple. Once you upload the email list, Abstract eliminates all the invalid email addresses and sends you a clean CSV file on your email address.
Key features
Improves your delivery rate
Real-time MX & SMTP check
Privacy-friendly (GDPR, CCPA)
Typo checking and smart suggestion
Disposable and free email providers check
Free plan: Yes, valid for 100 requests
Pricing: Starts from $9 per month (5000 requests)
Pros
The world's topmost brands use Abstract, including Google, Nokia, Payoneer, Shopify, Airbnb, Accenture, and more
Easy to implement and maintain
Reliable uptime
Excellent support function
Cons
Nothing that we could mention here
ZeroBounce
ZeroBounce is the best free bulk email list cleaner because of its performance, user-friendly interface, secure servers, and a lot of useful features. It integrates with multiple third-party applications including Mailchimp, Hubspot, Gmail, Constant Contact, Cloudflare, and Asana. So, you can verify your email marketing list in real time.
Key features
Adhere to GDPR, SOC 2 Type 2, CCPA, and PCI protocols
99 percent accuracy
Do not store your data and files for more than 30 days
AI scoring to nurture the best contacts
IP address geo-location
Multiple API keys
Incredible 24 by 7 support
Free plan: ZeroBounce does not have a free plan, but it offers 100 email verifications per month without any cost.
Pricing: Starts from $15 per month, which gives you 2000 credits
Pros
Free credits every month
High-grade performance
Top-notch customer support
18 validation tool
Blacklist Monitor
Cons
EmailListVerify
EmailListVerify is one of the best free bulk email list cleaners. It's simple to use and affordable. A lot of small to medium-sized businesses prefer EmailListVerify because of its reasonable subscription charges.
EmailListVerify offers 99 percent accuracy. Here comes the best part. It comes with a real-time API. Therefore, you can check the validity of email addresses before adding them to your list.
EmailListVerify accepts XLS, TXT, CSV, and all other formats. It verifies all the email addresses with the help of SMTP and domain validation. This tool also checks for spam traps and validates syntax errors.
Key features
Offers 99 percent accuracy
Removes inactive and expired email addresses
Eliminates email addresses with bad syntax
Searches for all the possible traps
Checks for hard bounces
Can integrate with a lot of email marketing applications
Free plan: No. Offers 100 free verifications once you sign up
Pricing: Starts from $4 for 1000 emails
Pros
Accepts numerous email list formats
Affordable pricing
User-friendly interface
Cons
XLS lists could be problematic to upload
DeBounce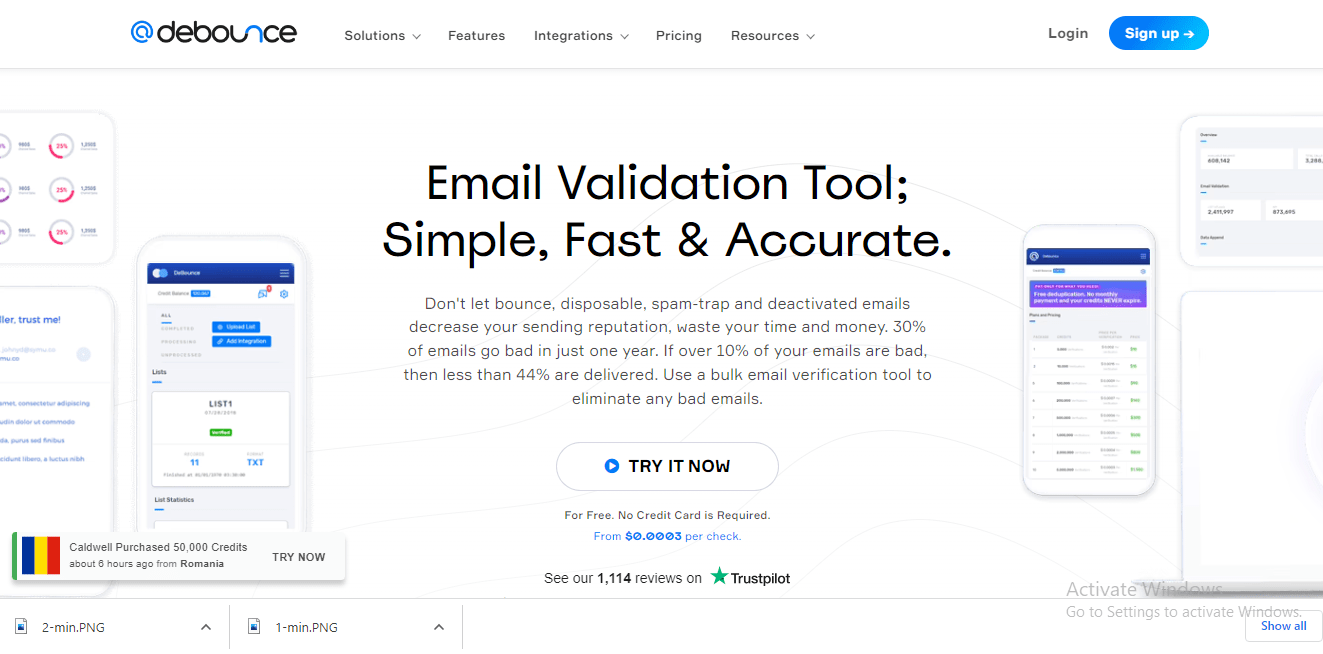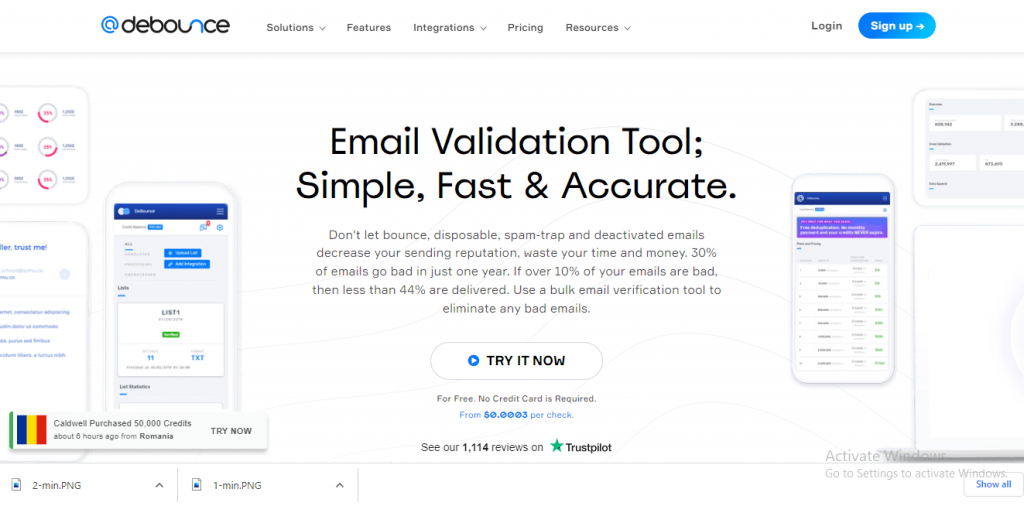 DeBounce is one of the best free email bulk list cleaners because of its quick nature and accuracy. It detects all the invalid addresses once you upload the email list in CSV or TXT format. You can download a clean email list for free once this tool verifies it.
DeBounce enhances your sender's reputation by eliminating deactivated email addresses. Therefore, it also saves your precious time, effort, and energy. You can try this tool because a lot of reputable brands are already using it. Some of the considerable names are Samsung, Western Digital, and Siemens.
Key features
Uses SMTP check to remove invalid email addresses
Disposable email checker for accuracy
Catch-All domain checker for better performance
Syntax eliminator
Email deduplication
Free plan: No, you get 100 free credits
Pricing: Starts from $10 (5000 verifications)
Pros
Integrates with a wide range of third-party applications including WordPress and Zapier
No credit card is required to get the free credits
Straightforward user-interface
Spam-trap removal
Detailed reporting
Cons
FAQs
What is a free bulk email list cleaner?
An online tool that removes deactivated, invalid, non-existent addresses from your email marketing list is called bulk email list cleaner.
What is the best free email verification service?
Email List Validation is one of the best free email verification services. Other valuable options are ZeroBounce, Abstract, EmailListVerify, and DeBounce.
How to use a free bulk email list cleaner?
Almost all the bulk email list cleaner free follow the same process to "purify" your recipients' list. So, you have to follow the given steps in general.
Download the mailing list as a CSV file. You can get it from your email campaign service provider.
Upload the file on the dashboard of the email list cleaner. Wait while the application does the work.
Download the cleaned CSV file and use it for your email marketing campaigns.
How often should I clean my email marketing list?
We recommend you perform the clean up after every six months. It's a crucial practice to save your time and energy.
Can a free bulk email list cleaner improve the ROI of my email marketing campaign?
A free bulk email list cleaner free ensures your message reaches active recipients who need your products or services. Such users are most likely your potential customers. Therefore, the ROI of your email marketing campaign increases automatically. In addition, a list cleaner enhances your deliverability score. Above all, it saves a lot of your time and energy.
How do free email list cleaners differ from paid ones?
The clean-up email list is free to verify only a particular number of emails, which is generally 100. However, premium cleaners can check an unlimited number of emails and clean your marketing lists.
What happens if you send an email to an address that doesn't exist?
When you send an email to an address that does not exist, the email server with the associated domain (It comes after @) responds with a 500-series error. If the email domain does not exist, then your mail server will bounce the message back to you stating that it cannot be delivered.
Conclusion
If you are looking for a hassle-free, fast, and reliable best free bulk email verifier, then you can bet on Email List Validation. You can also try Abstract, or ZeroBounce for robust performance. Other names are also valuable. So, you can try any of our recommendations as per your requirements.
No matter which free bulk email list cleaner you try, clean your email marketing list regularly and validate the email whenever a new user signs up. A high deliverability ratio boosts the conversion rate and makes your email marketing strategy successful.